It's already the last week of camp! I realize I may have missed a few things that we've been up to. We're not just working on the newspaper project, we've also taken time to do some art making. We've generally kept that time loose and free, whether it's painting on a piece of plywood, making little figures out of clay, playing on photoshop, or learning some new video editing techniques. Here are some pics for you to check out what that work has looked like.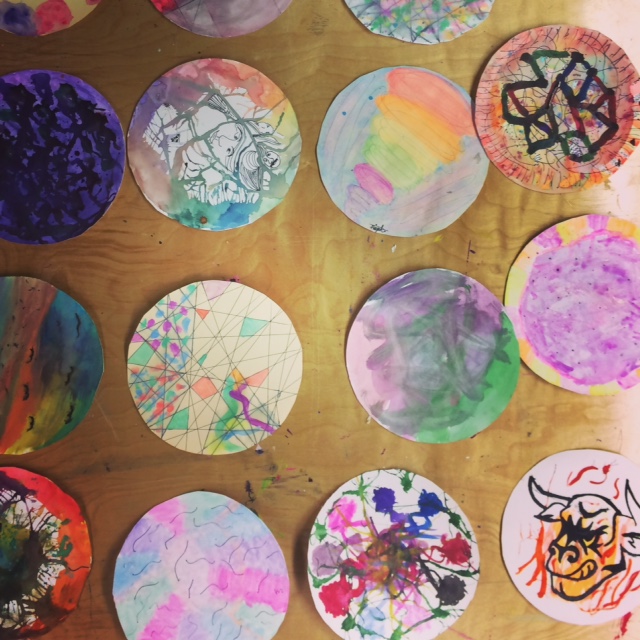 Now, this last week, we decided to do one more round of street interviews with a focus on the role that Monument Street, a hub of small businesses, plays in the community. So, most of the teams went out and followed the same model as they did with the street interviews last week. They found some people with lots of thoughts and some insightful ideas. Meanwhile, one group went to speak with a man, who helps run an organization of small business owners and merchants who work on Monument Street. You'll have to wait to hear more about that specific interview, but check out what people in the neighborhood think about Monument Street below.
The final project that we embarked was to make a movie about camp. We decided it'd be fun to make the movies in the style of a mockumentary, where the campers get interviewed about what they thought about camp and we cut to some re-enactments. So, the first day we assigned roles--lead camera operator, interviewer, main interview, reaction interview, actors, audio--and set about getting our footage. After we got the footage, we pieced together a storyboard to help guide us in the editing process. One group's movie take a rather bizarre turn, as a fictional character named Blind Billy became the protagonist. The next day, the groups split up the responsibilities with some working on a poster, some on gathering any more footage we needed, and some doing the editing. For the final day of camp, we played games, screened the movies, and had a super fun dance/karaoke party! One of the movies is still in the editing process, but you can check out the brilliant Blind Billy at Summer Camp below!